I bought 2 Starmate Replays and installed in my 97 Honda Civic using an aftermarket cup holder mount. see 3 pics below.
I also installed another starmate replay in my 2005 Volvo S40 using the velcro bracket that came with the receiver. see below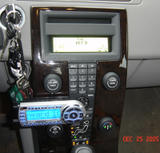 I also installed the starmate replay in my sister in laws 2005 Lincoln Navigator....pics to come!