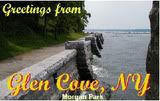 Greetings from Glen Cove, NY
One of only two cities on Long Island!
My first was the Audiovox PNP 2 purchased after Howard announced his moving to Sirius, back in October 2004. By the time it arrived, I found this site and decided I really wanted the Xact XTR1 with the PowerPod.
So, my parents got the Audiovox while I picked up the Xact which is my main radio even today! Still, the only true portable out there. I have taken it with me on trips all around the country and it has worked great for me.
I eventually had to upgrade my parents to a new, smaller unit so I picked up a Starmate for them which they've been happy with. The old Audiovox went to my neighbor who liked it so much that he upgraded to a Sportster and bought a second one for his home. Unfortunately, the old PNP2 no longer works but, it served its function well.